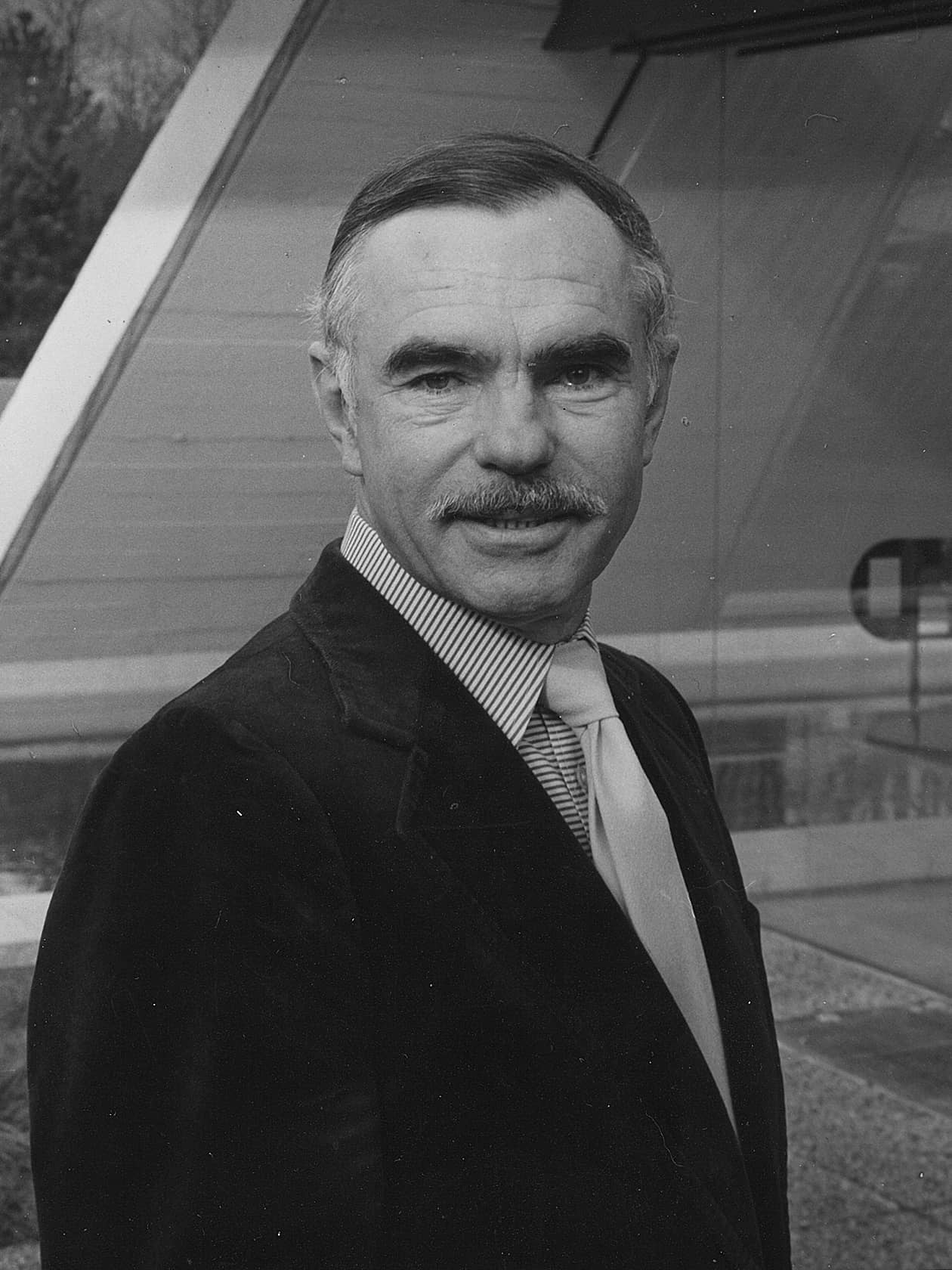 Peter Neufert 1966
Peter Neufert
Architect 1925 - 1999
Peter Neufert, born in Freyburg Unstrut, spent part of his youth in the Neufert House in Weimar Gelmeroda. After the Second World War he studied architecture in Darmstadt and worked in his father's office. After years in the office of Peter Friedrich Schneider, he opened an office in Cologne with his father. In 1955 he set up his own business, the "Atelier Neufert Köln".
"The family home brings the designer closest to his real purpose; the human being."
Peter Neufert, 1965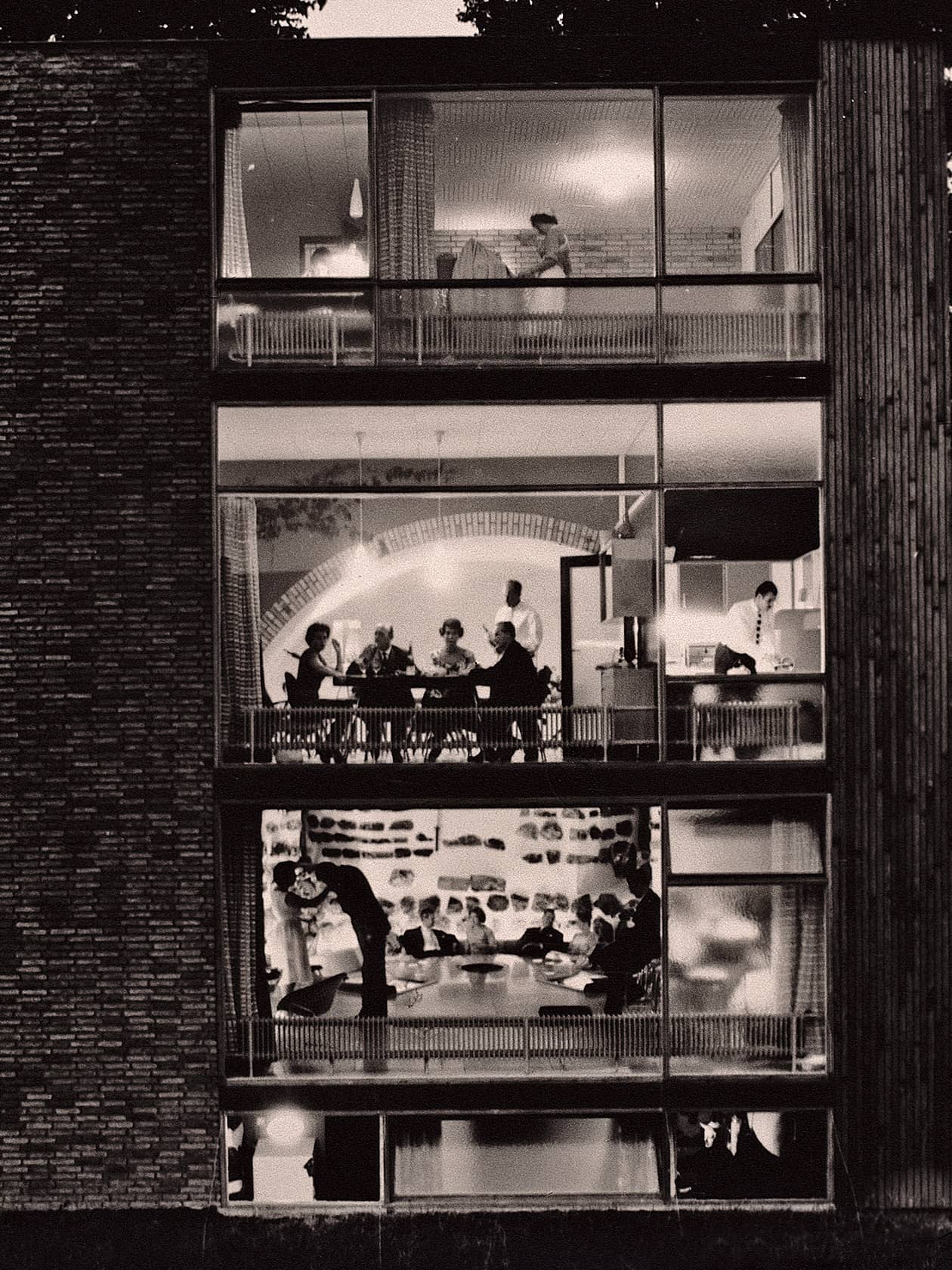 Photo: Marys Neufert
Sachsenturm, Cologne 1958. The first own house of Peter Neufert
The semicircular medieval ruin was completed with bricks and closed with a glass façade. In this way, the residential building offers both protection and openness. Basalt stones on the walls and wooden ceilings characterize the design of the four floors.
Awakening in architecture
the 50s, 60s and 70s
For decades Peter Neufert worked together with the equally creative engineer and structural engineer Prof. Stephan Polonyi. Arched supporting structures and shell constructions were their passion. Like the X1 in Cologne and the Keramion in Frechen.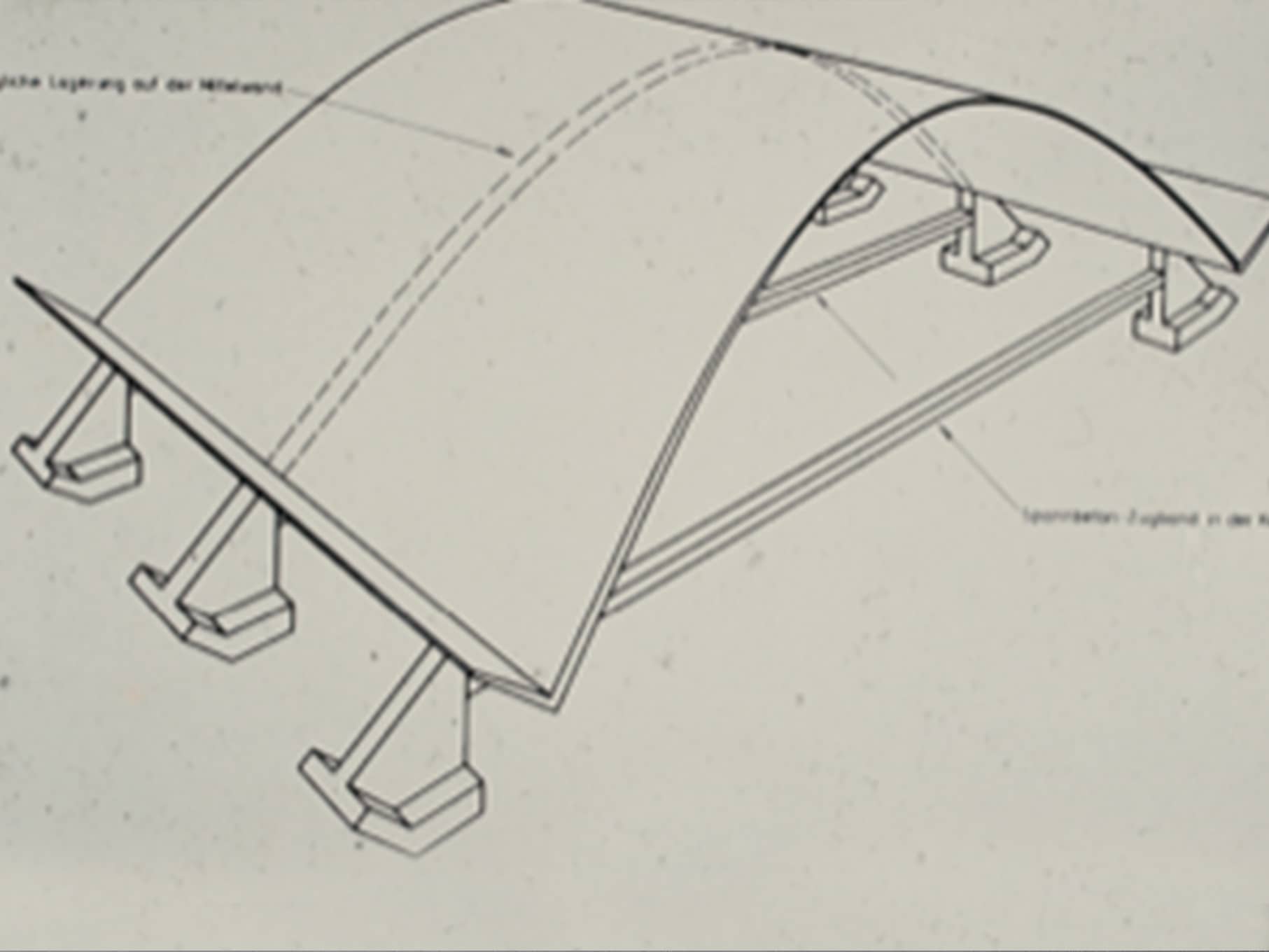 Construction X1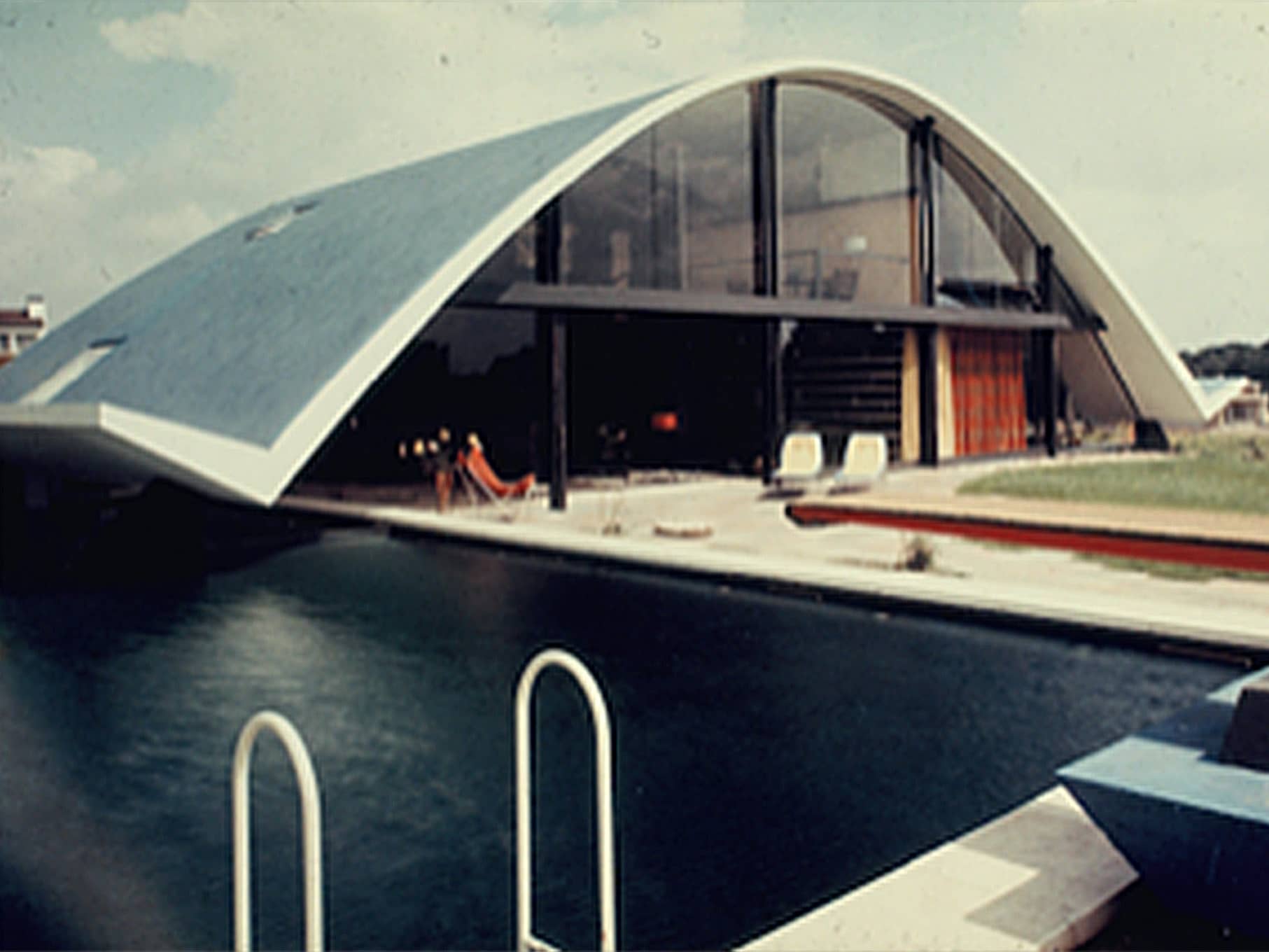 Residential House X1, 1962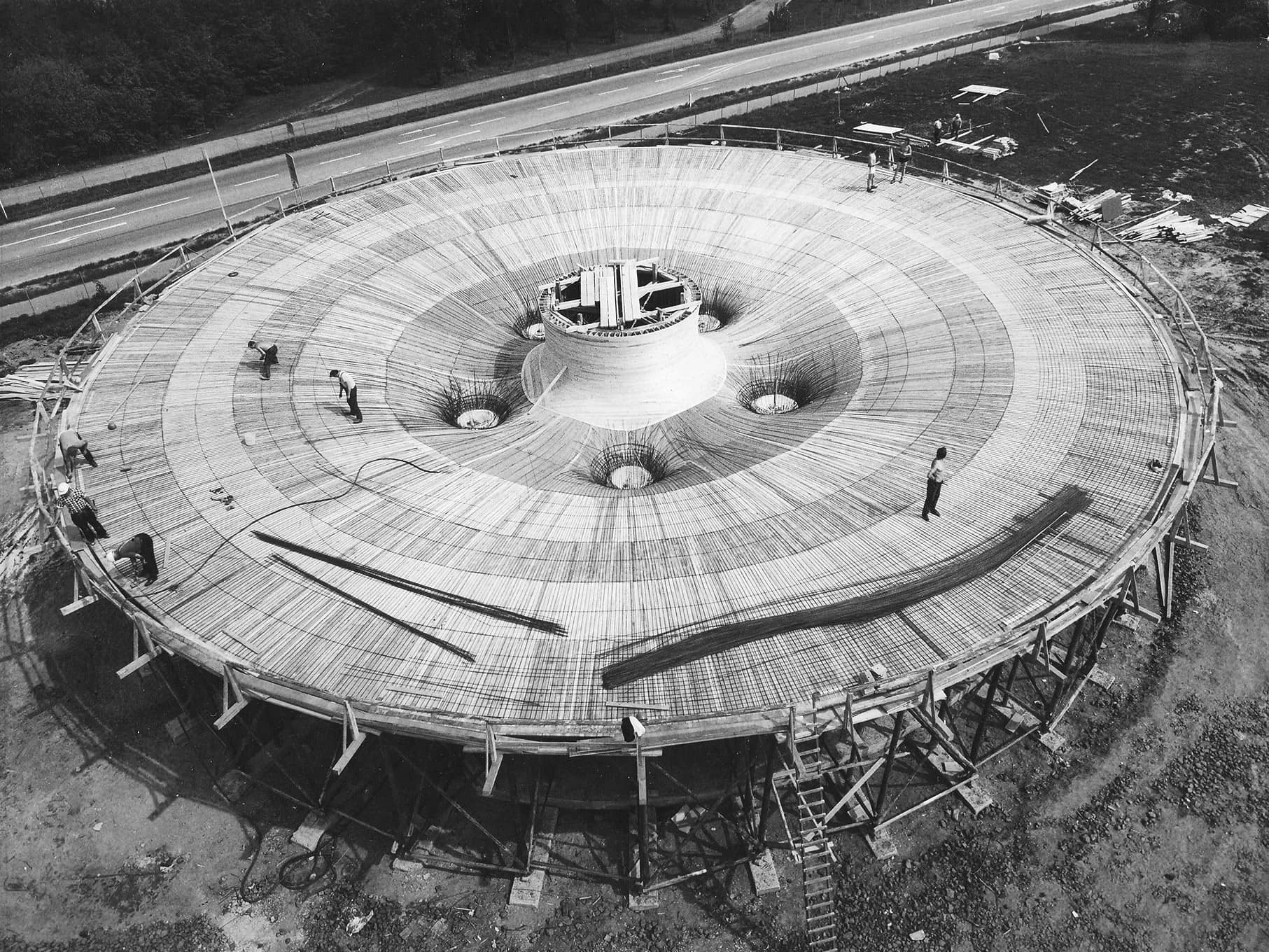 Diameter 32 meter, the Keramion
Frechen 1970
Industrial buildings, administration buildings, shops or residential buildings, Peter Neufert gives his designs something unmistakable, playful. For him, reconstruction is the first step into Modernism.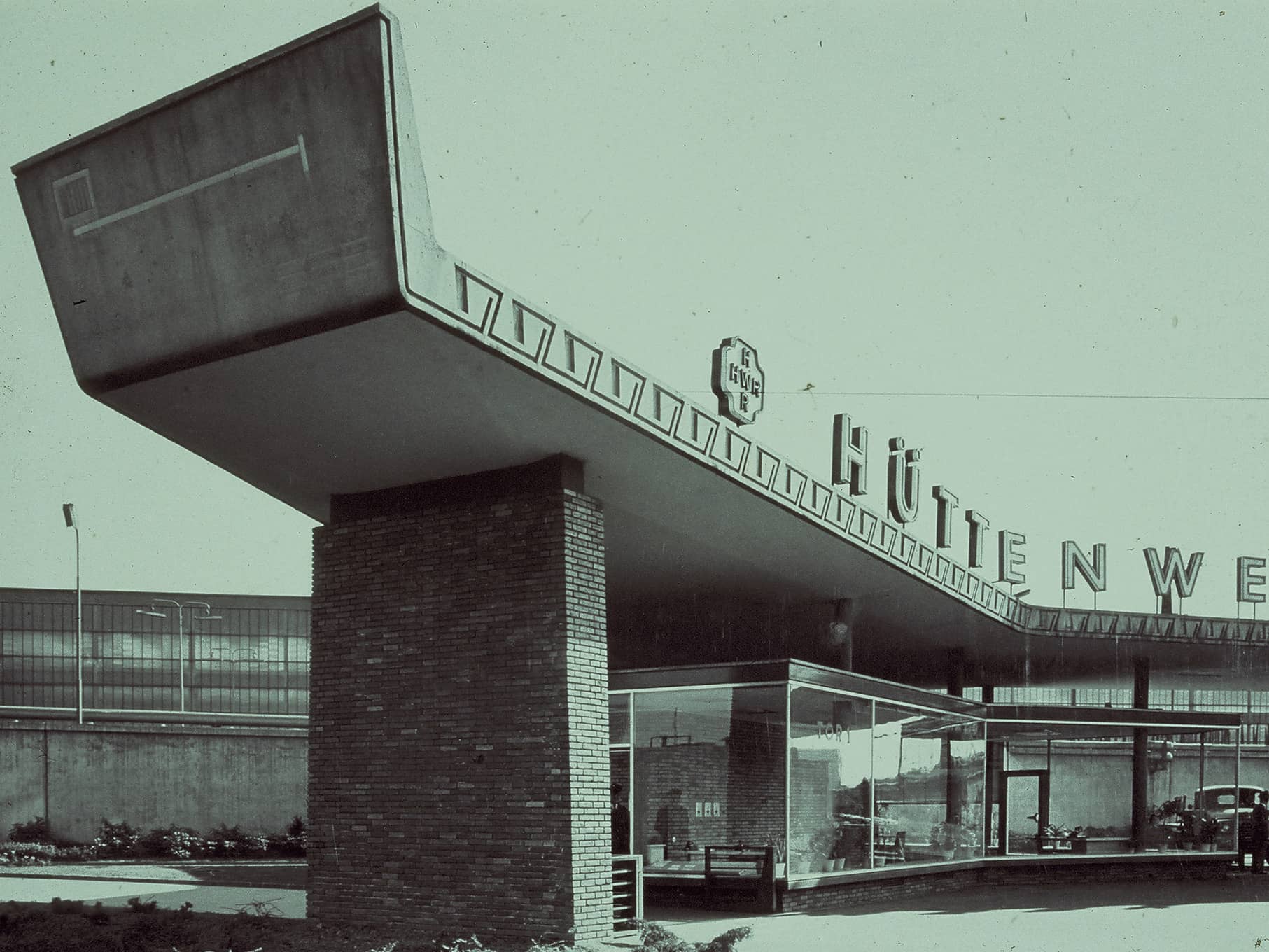 Gate 1 Thyssen-Krupp, Duisburg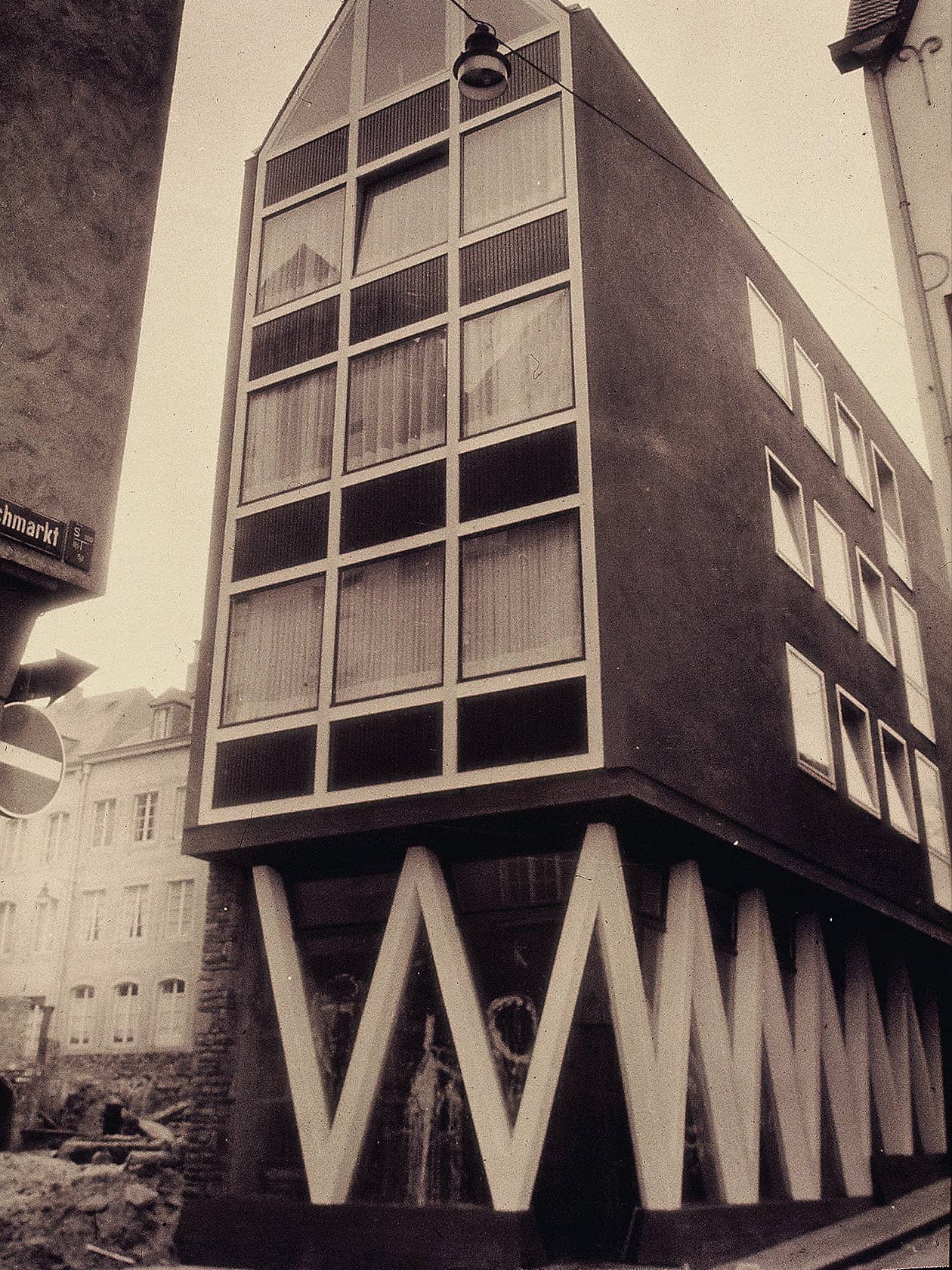 Residential House Lintgasse, Cologne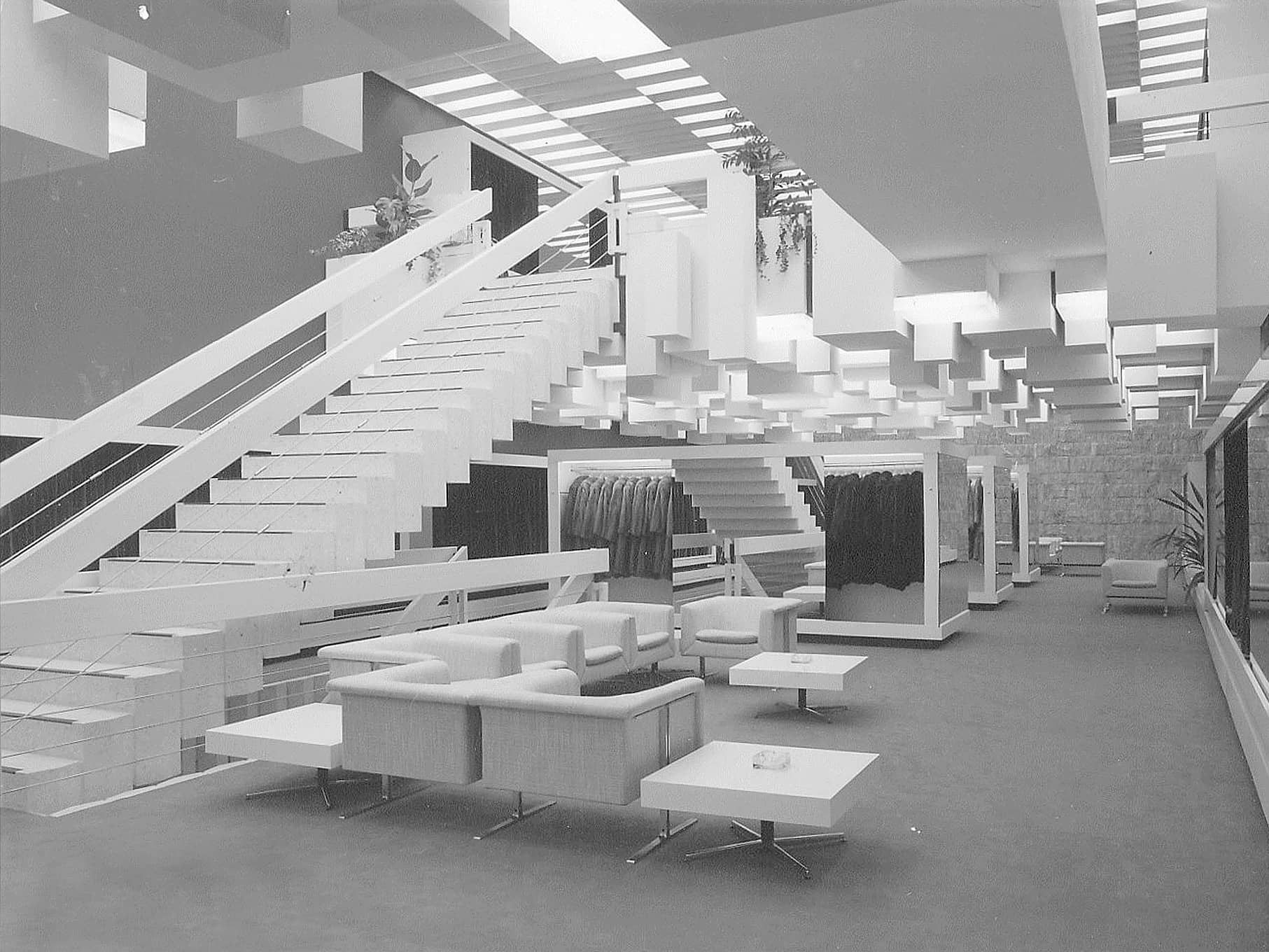 House Jordan, Dusseldorf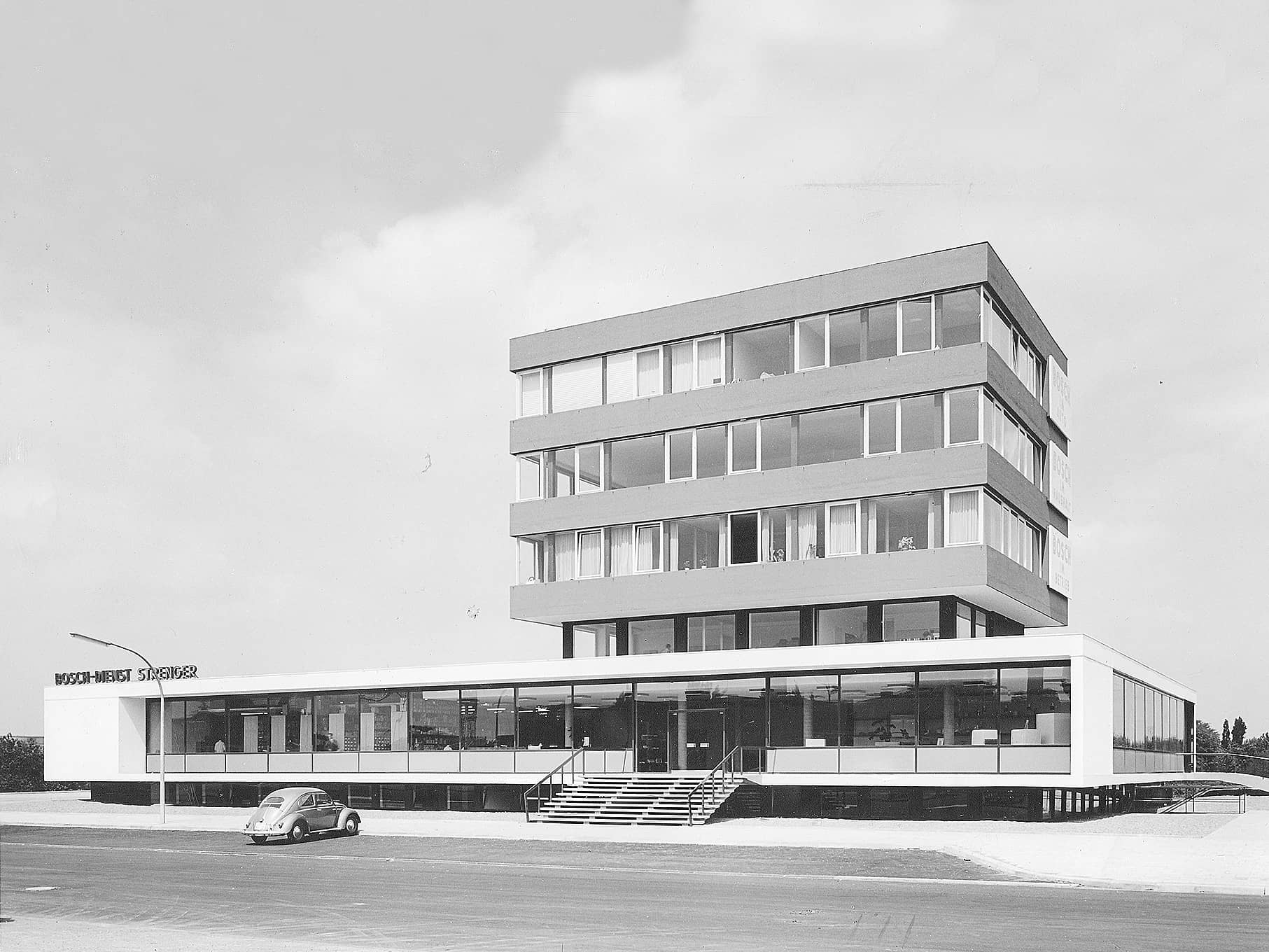 Bosch Dienst Sprenger, Cologne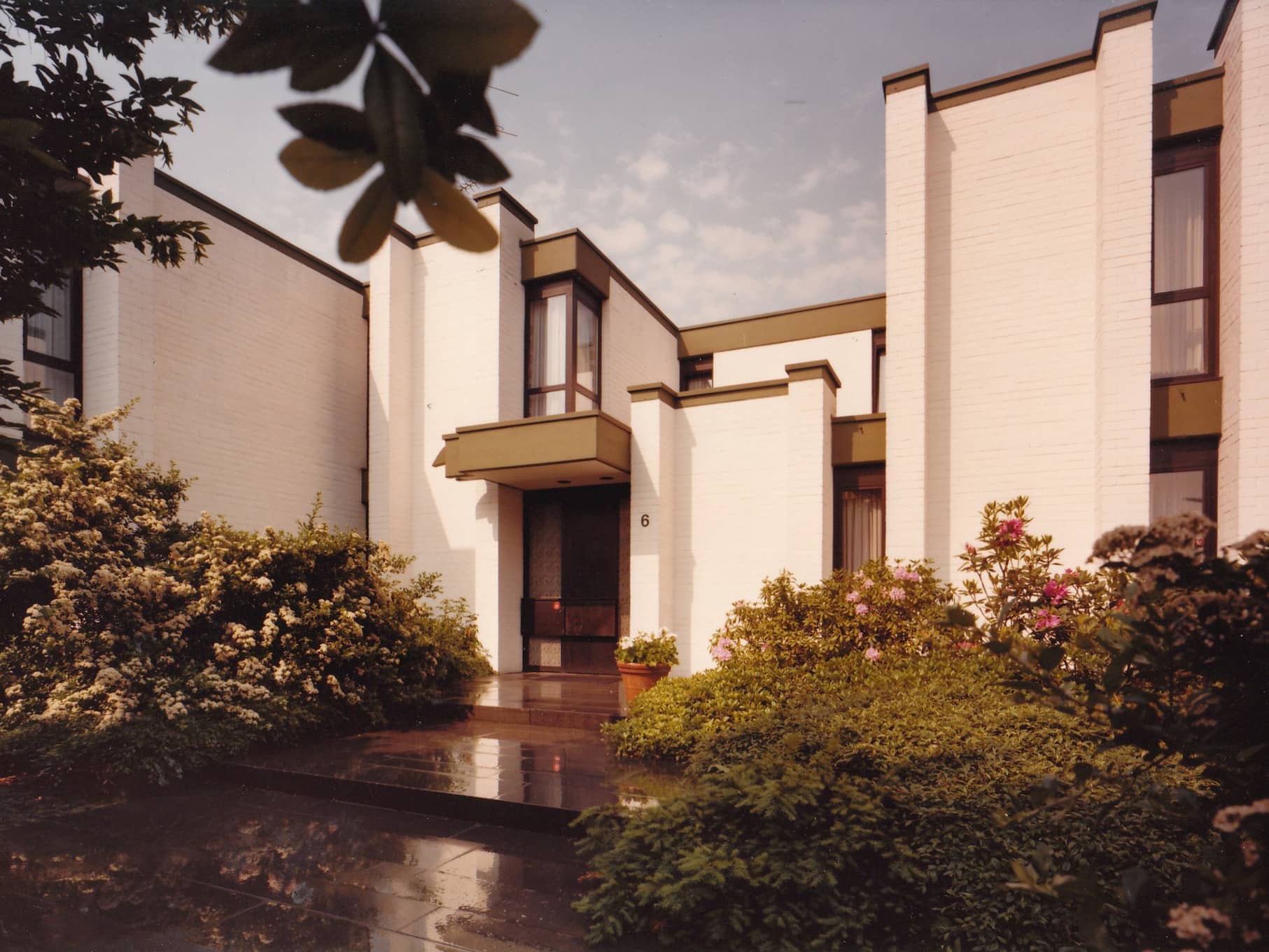 House G., Cologne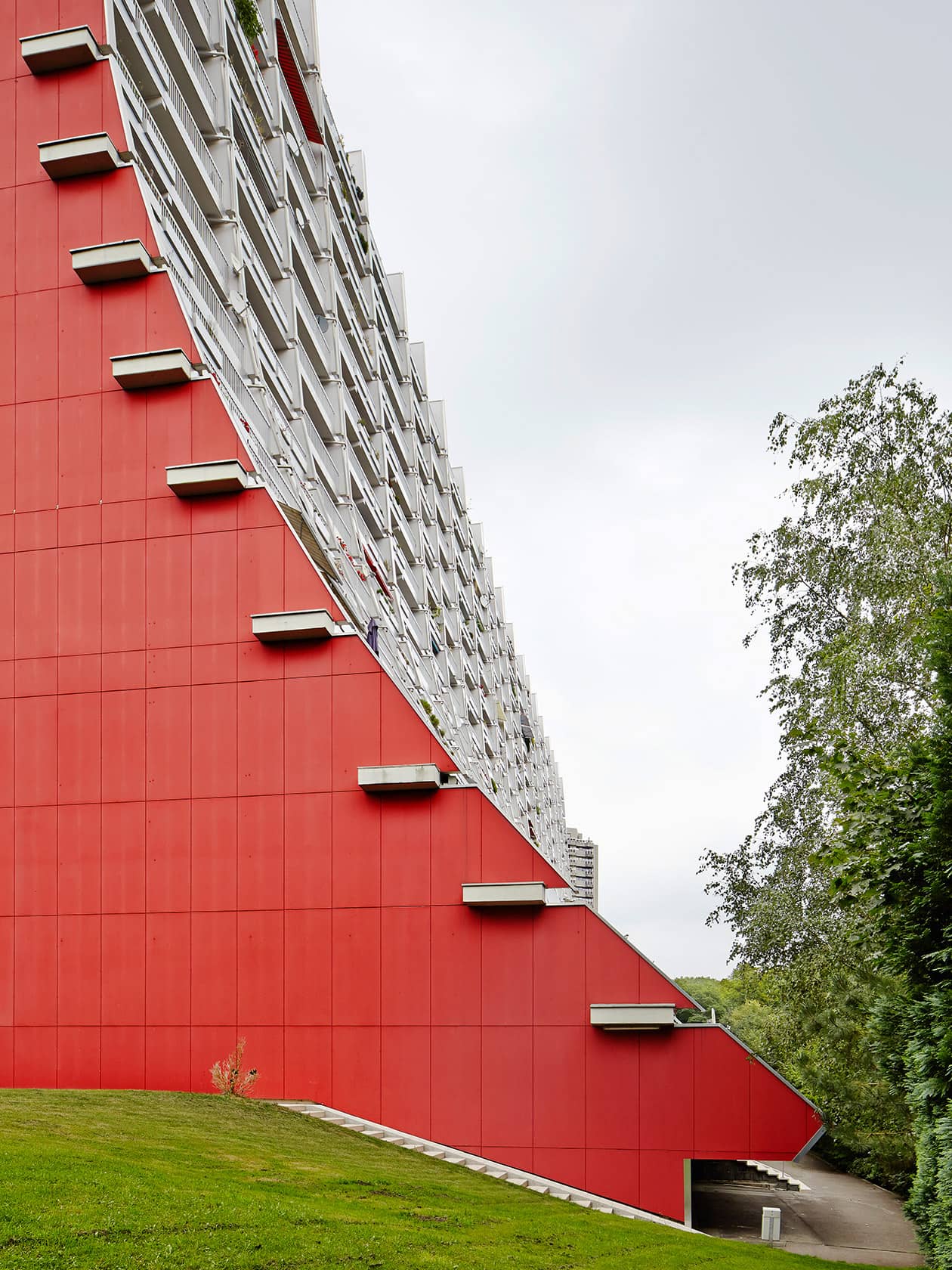 Europaterrassen, Luxembourg
Photo: Noshe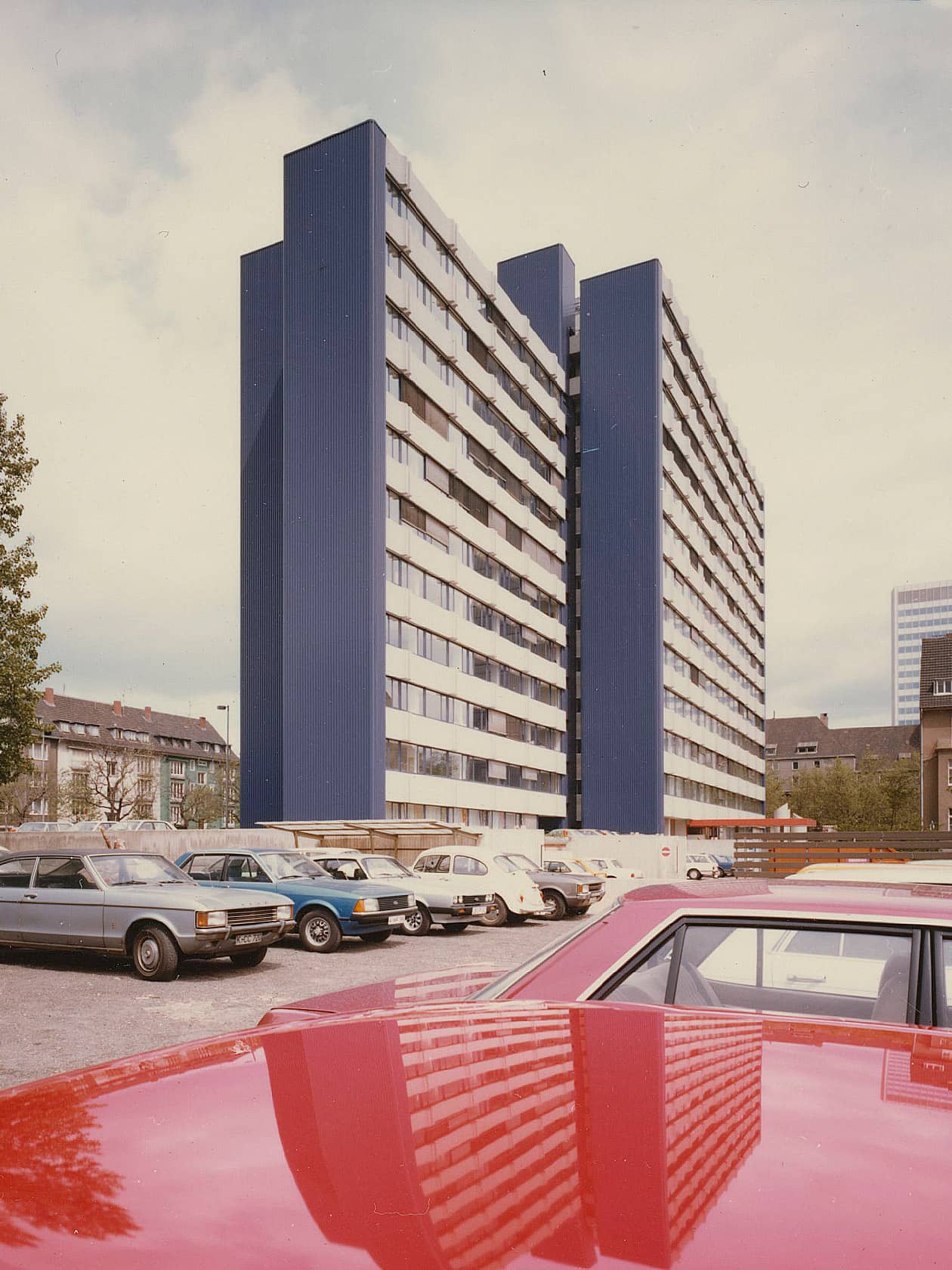 Insurance Building, Cologne
Photo: Achim Bednorz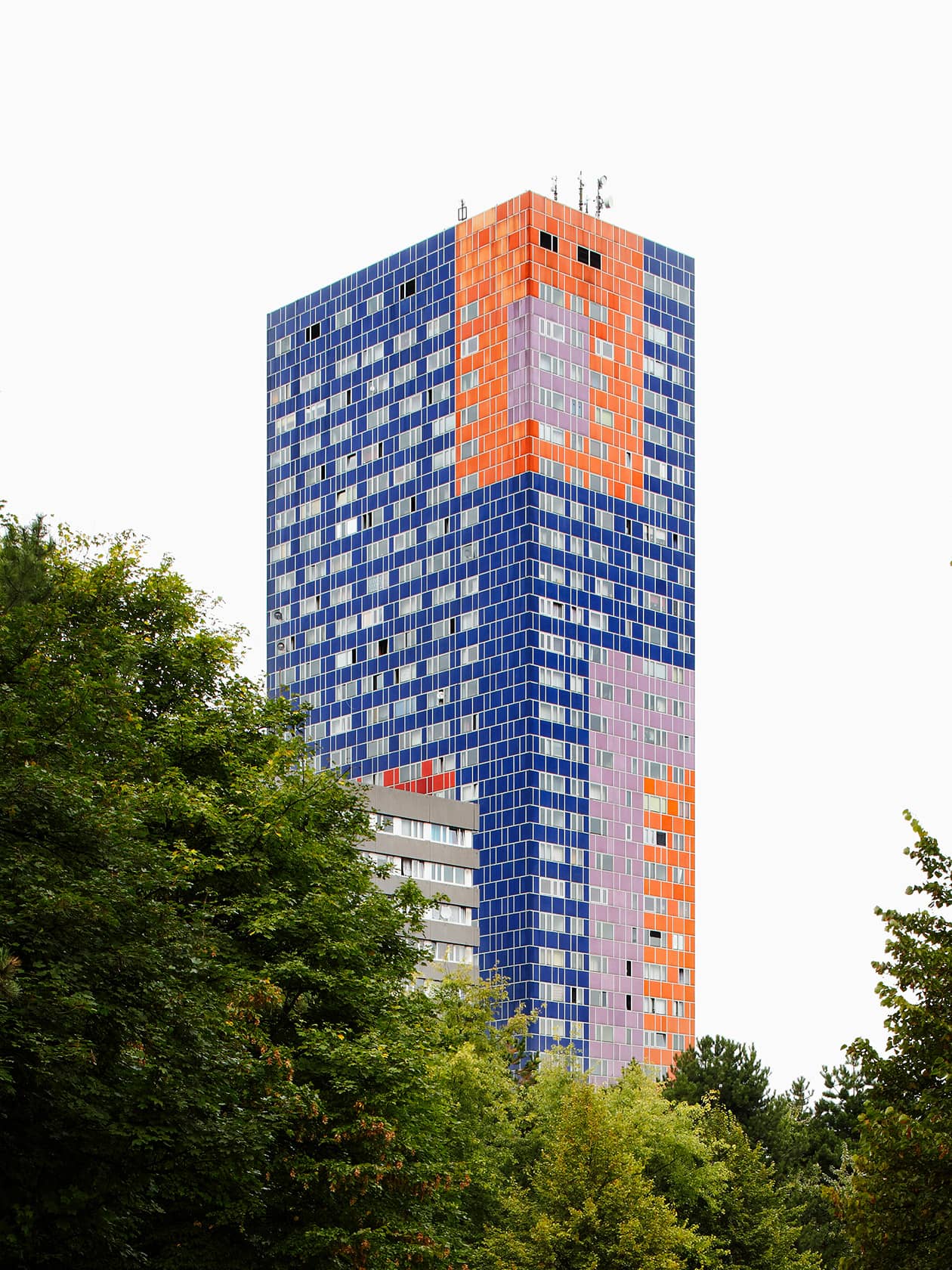 Herkuleshochhaus, Cologne
Photo: Noshe
Vita
Peter Neufert was born in 1925 in Freyburg an der Unstrut. As the oldest son of Alice Spies-Neufert and Ernst Neufert, he studied architecture with his father at the TU Darmstadt. In 1955 he opened his architectural office in Cologne. Complete curriculum vitae Peter Neufert
Selected buildings
1952

Cremer Office Building, Cologne
Navy-Army-Airforce-Institut-Shop, Cologne-Raderthal

1954

Court Pharmacie Wallrafplatz, , Cologne

1955

Braun Residential Home, Cologne-Rodenkirchen

1955/56

German Cement Association Building, Düsseldorf
In cooperation with Ernst Neufert

1956

400 Housing Units for US Army, Spangdahlem

1956–1973

Leybold Factory, Warehouse, Transformer and Staff Building, Cologne

1956/57

Headquarters of the Federal Association of the German Brick Industry, Bonn
City Vocational School, Cologne

1957

Commercial Building, Herdersche Bookstore, Cologne
KLM Offices, Cologne and Bremen
Sachsenturm Residence, Cologne, Sachsenring
Degussa Industrial Plant, Cologne Poll
Thyssen-Krupp Gate System for Steel Mill, Duisburg-Rheinhausen
Ohm Residence, Rheine

1958

Multiple-Family Dwelling, Bensberg
Machill Houses, Cologne
Cremer House, Cologne
Wrede House, Cologne-Hahnwald

1959–1962
1959–1961

Cuerten House, Cologne
Breuer House, Cologne
Steins Photo Store, Cologne

1960

Brune House, Mannheim-Viernheim
Dunkel House, Cologne
Schwepke House, Eschweiler
Pohland Commercial Building, Cologne
Rademacher House, Cologne-Hahnwald

1961-1962

HHS Cement Associalion Expansion, Dusseldorf
Ratjen House, Cologne
Strenger Bosch Service Center, Cologne-Marsdorf

1963

Atelier Neufert and Office Building, Cologne

1964

Casa Sylvia, Sintra, Portugal
Stüssgenhof House, Kitzbühel, Austria

1965

Residential and Commercial Building, Cologne
Bauwens Office Building, Cologne
Perthel House, Cologne

1966

Saarbach Administration Building, Cologne
Wormland Department Store, Cologne

1967-1970

Bodelschwing House, Cologne
Wormland House, Munich
Gedelfi Office and Administration Building, Cologne
Farina House, Cologne
Jordan Furrier, Düsseldorf

1970

Belgian Embassy, Bonn
Schroeder Bank Office Building, Cologne

1971-1972

Schlüssel Perfumery, Cologne, Neumarkt
Herkules High-Rise, Cologne
Residential Complex, Cologne
Graebner House, Cologne-Hahnwald

1973

"ll Rondo" Hotel, Maspalomas, Grand Canary
Delil Office Building, Cologne

1975-1977

Hamburg-Mannheimer Administration Building, Cologne
Federal Ministry of the lnterior Casino, Bonn
Schöne Aussicht Residential Complex, Bensberg

1978

Europa Terrassen Apartment House, Luxembourg
Multiple Family Dwelling, Cologne

1980

Kämpgen Commercial Building, Cologne

1981

Quinta do Miradouro, Montargil, Portugal
Noise Barrier, Freeway 3 Köln-Frankfurt near Siegburg

1983-1986

Japan External Trade Organization, German Headquarters, Düsseldorf
Köln-Rodenkirchen lndustrial Park, Cologne
Colonia lnsurance Entrance Hall, Cologne

1990

"Barragem" Hotel and "A Panela" Restaurant, Montargil, Portugal
---
Donations
Are you interested in our work? Please get in touch with
the foundation. Your donation can help us to finance scholarships for national and international architecture students, organise public events (Open Monument Day, Museum Night), hold guided tours at the Neufert House and Neufert Box, and realise exhibitions of contemporary architecture.
---
Contact
Neufert Stiftung Weimar
Heike Sterner
Rudolstädter Str. 7
Germany - 99428 Weimar-Gelmeroda
Phone: +49 (0)176 37 460 688 sterner@neufert-stiftung.de
Board
Nicole Delmes